WE ARE HIRING!
An award-winning bed and breakfast in Hertford, we pride ourselves on creating exquisite experiences for our guests.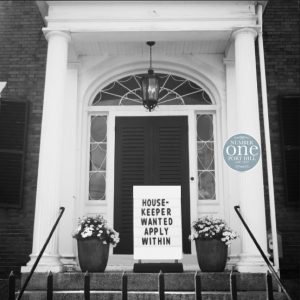 HOTEL:
We have 3 bedrooms all with ensuite bathrooms.
Duties include:
Cleaning rooms and bathrooms after guests have left or tidying if they stay more than one night.
Our laundry is carried out in-house so will include ironing.
General upkeep of the front and secret courtyard gardens (no gardening experience required).
Clear breakfast and re-lay breakfast room when necessary.
Dust and polish Drawing and Dining Rooms and general public areas.
Sweep and mop all floors.
Keep kitchen clean (we have a 5-star food hygiene rating).
HOUSE:
We also have an office that is run from Number One.
Duties include:
Number One is also a residence.
Duties include:
Make up main bedroom.
Clean 2 bathrooms.
WHO WE ARE LOOKING FOR:
A brilliant housekeeper with high attention to detail and a great deal of initiative to join our fun and talented team.
You must be up for a laugh as well as appreciating quality and style! A hard-worker with a can-do attitude. An open and friendly approach is required. Number One is a hive of constant activity – there's never a dull moment. Lunch is included!
No previous housekeeping experience required. It is more important that you are a great fit for the team.
HOURS:
It is a full-time role; however, the hours are part time and flexible. You can work between the hours of 10.00-14.00. Some weekends are included.
RATES:
Negotiable dependent on experience. Applicants must be self-employed.
CONTACT:
Annie on 01992 587 350 or annie@numberoneporthill.co.uk