NUMBER ONE PORT HILL – BED & BREAKFAST HERTFORD.
Number One Port Hill Bed and Breakfast, Hertford is situated just 5 minutes' walk from the historic market town centre of Hertford which has an abundance of restaurants and bars to suit all tastes. There is a bustling cultural community within the town which is reflected in its art galleries, museums, antique shops and newly refurbished theatre situated in the grounds of the 600 year old castle.
We are a 10 minute walk to both Hertford North and East rail stations which provide extensive links to London and beyond.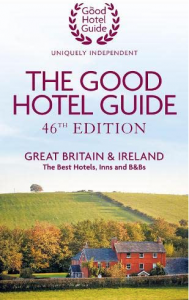 Number One B&B Hertford is proud to be the ONLY hotel in Hertfordshire to appear in the Good Hotel Guide and Alastair Sawday's Special Places to Stay!
Ranked Number 1 out of all bed & breakfasts in Hertford as voted by Trip Advisor.
Number One Port Hill has been awarded a place in Alastair Sawday's 'Special Places To Stay' Guide and The Good Hotel Guide for the 9th year running to which we are thrilled. We are the only hotel in Hertfordshire to be given these accolades and have been featured in The Times Weekend Supplement as number 3 in their 'Guide to Great British Weekend Breaks'. We have also been featured in The Sunday Telegraph and Conde Nast Dream Destinations three times as their Venue of the Week. The Certificate of Excellence Award for the past 9 years by Trip Advisor means we consistently deliver hospitality excellence and due to this we have been awarded an entry into their Hall of Fame. To continue this marvellous news, last year we won Luxury Travel Guide's Global Award for Luxury Boutique Hotel of the Year and Recognition of Excellence by HotelsCombined so really pleased with all the wonderful media exposure! As an added bonus, The Telegraph and The Daily Mail "Inspector" came to stay and reviewed us with an overall score of 8/10 ranking us as the top hotel in Hertfordshire. To complete some fun times so far, we won Best Boutique Stay Hertfordshire in the Muddy Stilettos Awards as voted for by guests and the local community, a VisitHerts Best B&B Finalist and B&B of the Year bestowed upon us by Staycation/The Independent/HolidayCottages. Just wonderful.
Voted Number 3 by The Times in their Guide to Great British Weekends October 2012.
Voted Venue of the Week in The Sunday Telegraph December 2012, April & August 2013 and May 2014 as part of their Sawday's promotion.
Awarded Luxury Boutique Hotel of the Year by Luxury Travel Guide and Recognition of Excellence by HotelsCombined.
Daily Mail 'An Inspector Calls' and The Telegraph reviewed us with an overall score of 8/10 ranking us the top hotel in Hertfordshire.
If Carlsberg made B&Bs, then this would be it. Fantastic!
– Paul and Julia, Suffolk.
ROOMS & TARIFFS.
MASTER ROOM 1.
Our Master Room 1 is a large, beautiful room with a kingsize French gilt bed, tempur & pocket sprung mattress, gorgeous goose down fluffy pillows, seating area and a separate, private Italian bathroom with a decadent raised boat bath and walk-in power shower.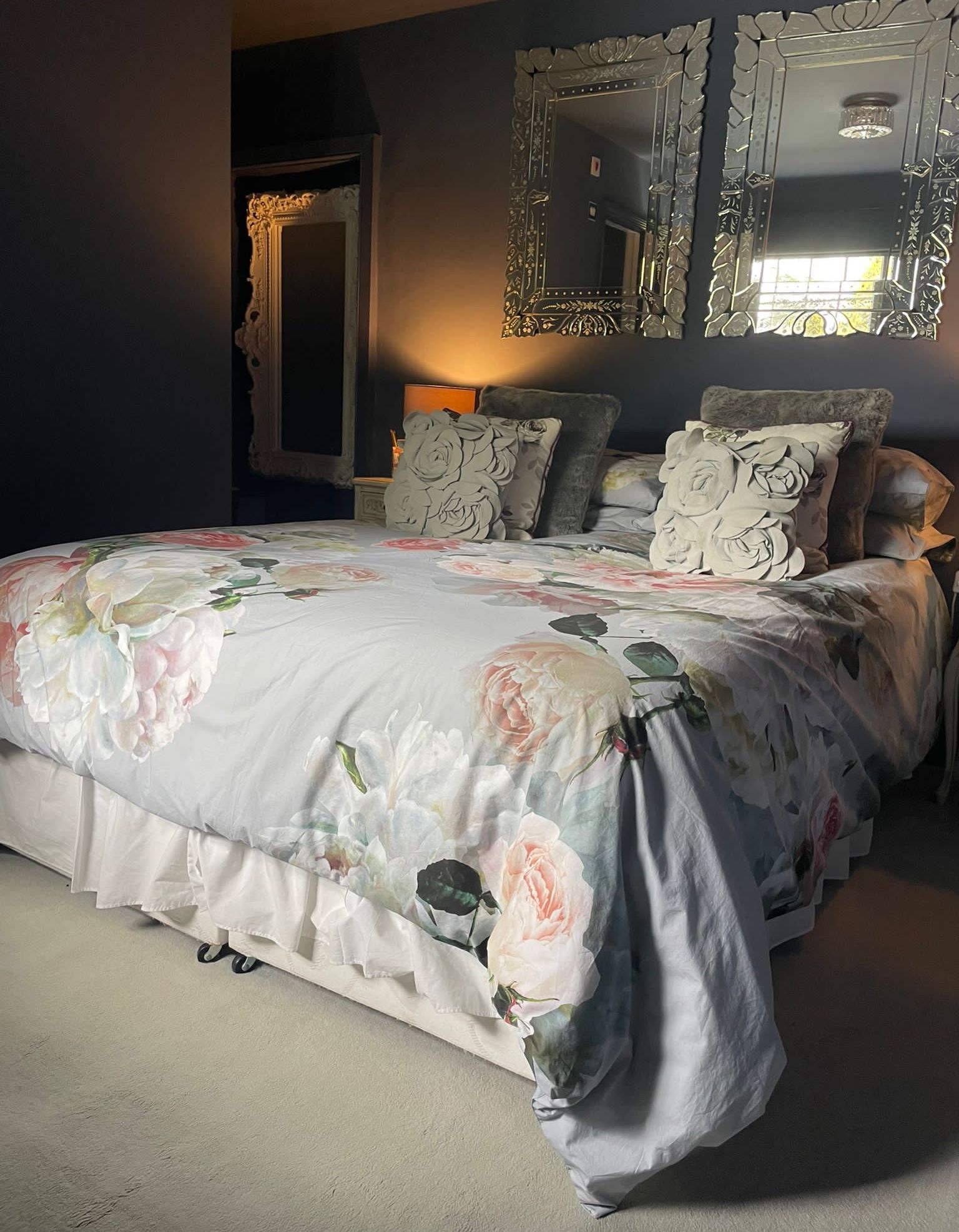 ROOM 2.
A small but charming room with kingsize bed, seating area and dressing table/desk, elegant Venetian furnishings and an Italian shower ensuite.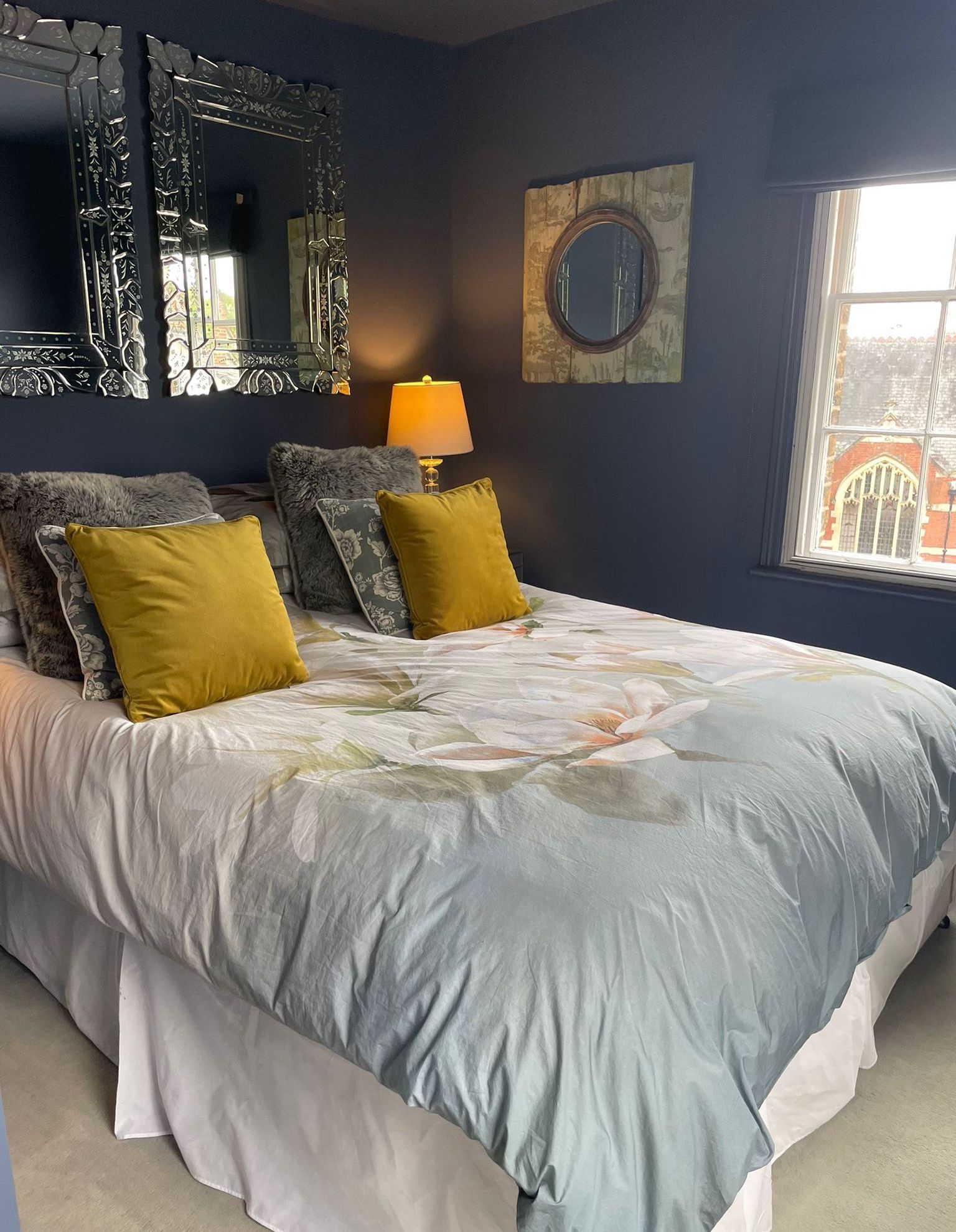 ROOM 3.
A cosy, charming double room with a bright and airy ambience due to its dual aspect, is fitted with a kingsize bed and a beautifully appointed Italian shower ensuite.
All rooms have Sky or Freeview, free wifi, yummy biscuits and sweets, savoury snacks, Belgian hot chocolate and a large selection of coffees, teas and tisanes. All bedlinen is Egyptian cotton and gorgeous bath robes, slippers, shavers and a range of exquisite toiletries complete the luxury.
ALL OUR ROOMS OFFER:
New beds
Superfast free wifi
Sky or Freeview
Flat screen TVs
Filtered, chilled water
Choice of teas, coffees & tisanes
Biscuits, pretzels, toffees and sweeties for that midnight snack
Hairdryer
Ironing board and iron
1000 thread count Egyptian cotton bed linen
Sumptuous bathrobes and slippers
Luxurious toiletries
Shaver set
Clock
Electric fan
An eclectic mix of reading materials
TARIFFS:
Room 1 – £200 per room per night inclusive of luxury breakfast.
Room 2 & 3 – £150 per room per night inclusive of luxury breakfast.
Minimum stay of two nights.
Sumptuous! Splendid! Gorgeous!
– Ian and Wendy, Milton Keynes.
BREAKFAST AT NUMBER ONE.
"Venite ad me vos qui stomacho laboratis et ego restaurabo vos".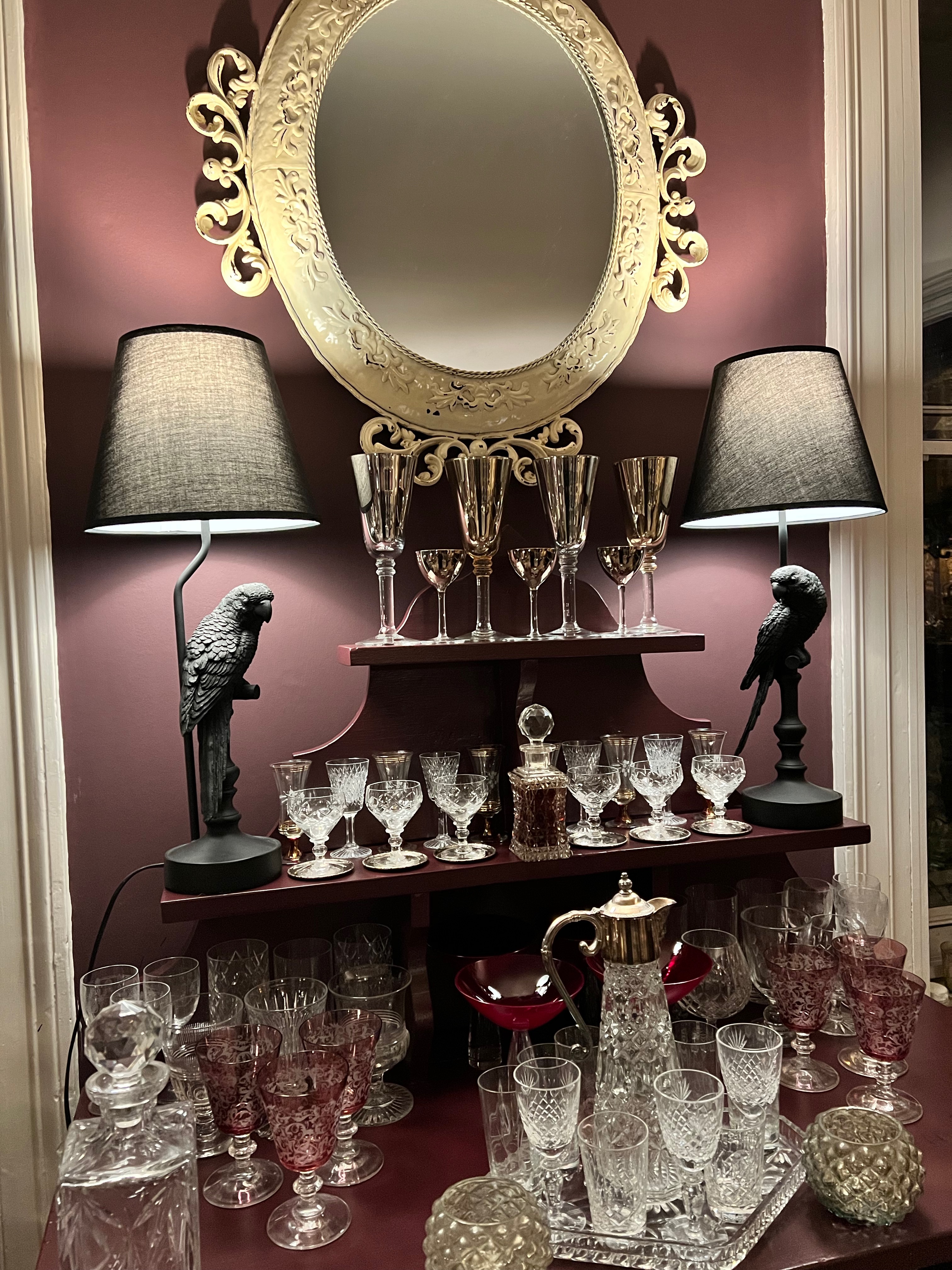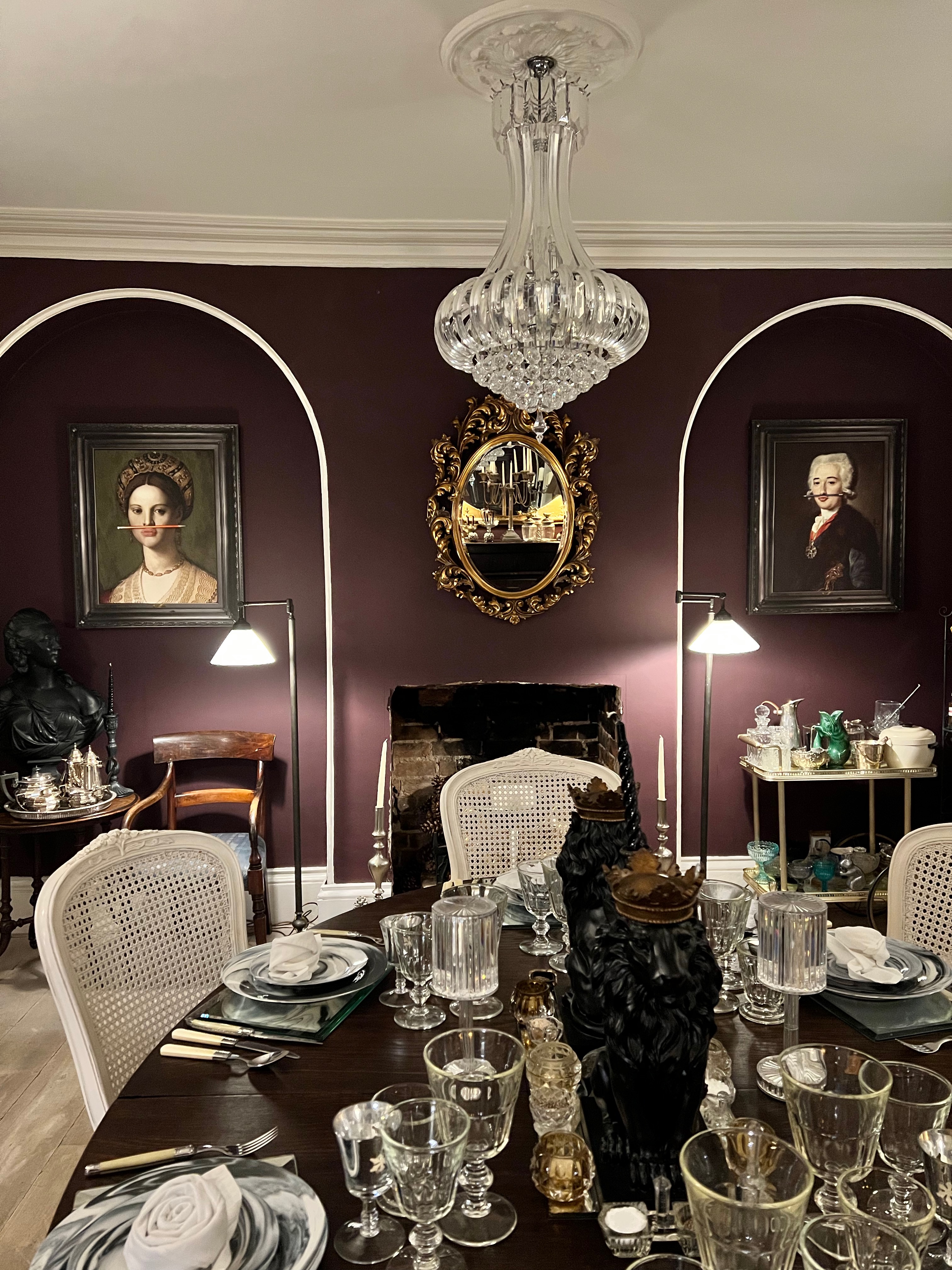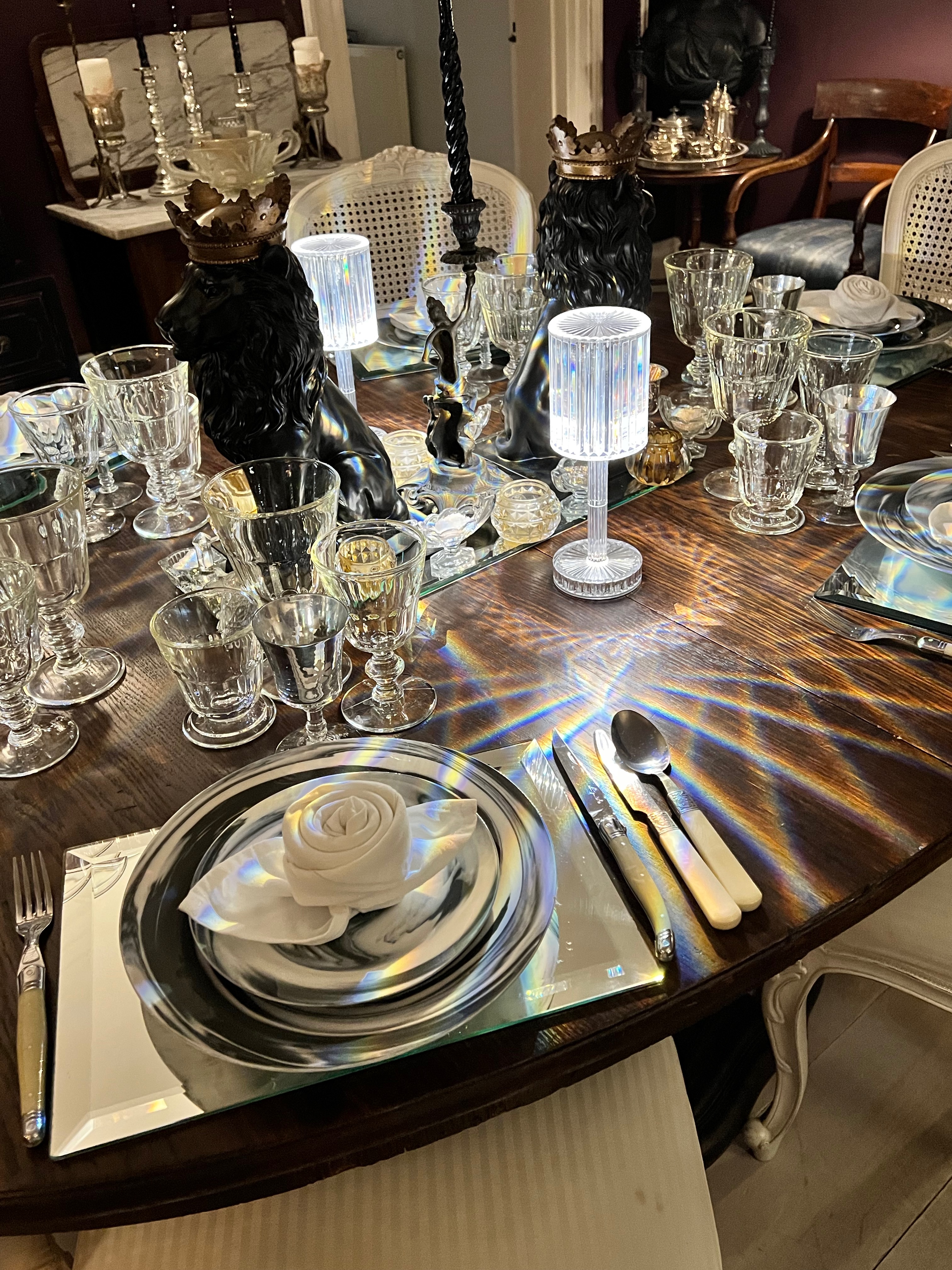 Breakfast is served from 7.30am – 9.00am.
All our breakfasts include:
A huge selection of preserves and delicious honey, fresh juice, English Breakfast tea, all kinds of tisanes and herbal teas and freshly ground coffee.
The Full English
Locally produced organic sausages and dry cured smoked back bacon from award-winning pedigree pigs, grilled vine tomatoes, chestnut mushrooms pan fried in Brittany butter and Italian home grown olive oil (courtesy of Gianni and Vania Dal Negro, our very first guests) and free range eggs prepared to your liking.
OR
The Lighter Option
Organic granolas, mueslis and brans served with nuts and dried fruit, handmade yoghurt from a cooperative in London, sourdough or farmhouse bread, warm French butter croissant or plain butter brioche.
OR
The Vegetarian Option
Portobello and chestnut mushrooms pan fried in Brittany butter and Italian home grown olive oil, topped with free range fried egg, served with grilled vine tomatoes and oven-baked hash browns.
OR
Specialities upon request:
THE SPANISH OPTION:
Spanish breakfast of pan con tomate with grated organic bulls heart tomatoes, extra virgin olive oil, flakey sea salt on sourdough toast, jamon & manchego cheese – £9.00
Scottish smoked salmon with scrambled egg – £9.00
Grilled kipper with poached egg – £9.00
Fresh seasonal fruit platters – £9.00
A wonderful experience! A very friendly host, great hotel and we'll be back!
– Sue and Alan, Norfolk.
FACILITIES & SERVICES.
FACILITIES
The beautiful residence of Number One Bed & Breakfast, built in 1812 and acknowledged in Nikolaus Pevsner's Buildings of Hertfordshire, features an eclectic elegant mix of original grandeur and modern touches and offers truly first class accommodation in Hertford. From the moment you walk through the wrought-iron gate and through the award-winning garden, you know that you have arrived at somewhere really special.
Shimmering chandeliers, corniced ceilings, huge mirrors and sculptures combined with modern art, roaring fires and vintage glassware, all make for a visually spectacular experience. Off the main hall is the Dining Room – a treasure trove of glass, fabulous china and a stunning table setting.
The gorgeous Georgian mahogany staircase leads you past the luxurious Drawing Room and upwards to the bedrooms. The Drawing Room provides a chance for you to lap up the history of the house in lavish surroundings. It is the perfect place to read the papers or a book, enjoy a tot of homemade Sloe Gin or to just sit by the magnificent fireplace and relax.
The secret courtyard garden provides an intimate, romantic retreat, be it to enjoy a coffee or just to sit in the sunshine under the dappled shade of the ancient wisteria.
The obvious attention to detail in these surroundings is equally evident in the warm welcome you receive. We pride ourselves in going that extra mile just for you. We understand that our approach and our attitude is key to giving an individual and personalised service ensuring that your stay is unforgettable.
Check in times: 4.00pm – 8.00pm.
Check out time: 10.00am.
Guests who arrive or depart outside of these times will be charged a supplement of £30 per room unless otherwise agreed in advance.
SERVICES
We offer the following:
Exclusive hire of the house for events, management meetings, bridal packages, celebratory moments, private dinners, product launches, exhibitions, pamper weekends.
Upon request, we also offer:
Gift vouchers, restaurant and theatre bookings, local glass blowing showround, beauty and hair treatments, early/late check in/out facilities at a supplement of £30 per room.
The Romance Package – the perfect way to start your stay:
Champagne on ice served in vintage champagne glasses in your room, the Drawing Room or outside in the courtyard garden £45; freshly cut flower bouquet £35; luxury chocolates £18.
Choose something to delight or have all three at a special price of £90.
All prices subject to availability at time of enquiry.
We have had an absolutely fantastic time in this wonderful house. Annie is mega!! Lovely place, lovely dog and lovely food. Thanks Annie!
– Jon and Sara, Sheffield.
YOUR SPECIAL DAY.
"You deserve only the very best".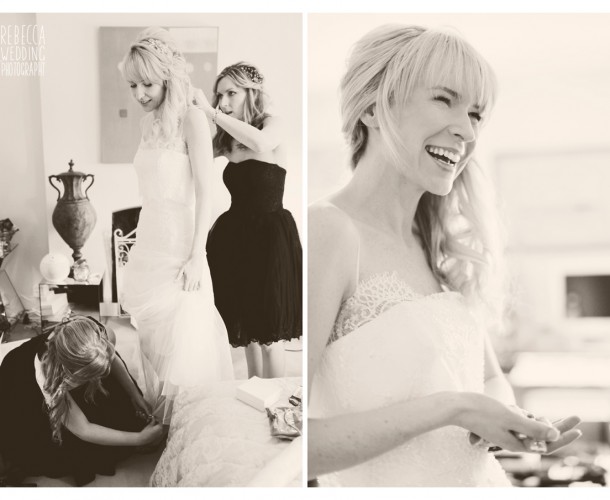 Here at Number One we understand that this is the most important day of a lady's life so we want to make the preparation stages as relaxed and as easy as possible – with a lot of fun mixed in too! Number One is an extraordinary venue for your photographer to capture that perfect moment between mother and daughter, companionship between life-long friends and most importantly, an exquisite bride.
CHOOSE FROM ONE OF OUR THREE EXCLUSIVE BRIDAL PREPARATION PACKAGES:
*    Personal attention by Annie Rowley and her team to tailor-make your day.
*    Exclusive use of our gorgeous Georgian townhouse, Drawing Room and courtyard garden for preparation of your spellbinding event, dressing and pre wedding photos.
*    Exclusive use of Drawing room for photos or a champagne and canapés reception.
*    Beautiful mahogany staircase and wide landings for interior photos.
*    Courtyard garden filled with flowers, candles and chandeliers for photos and drinks.
*    Front garden for leaving photos.
*    Overnight accommodation for the bride in our gorgeous Master Room 1, with kingsize French gilt bed, tempur and pocket sprung mattress and tempur and goose down pillows. Seating area. Gorgeous chocolates, biscuits, pretzels and toffees available to munch on.
*    Large separate Italian bathroom with walk in power shower and raised boat bath with floor lighting.
*    Two further bedrooms with kingsize beds and Italian shower ensuites included for bride's party.
*    Egyptian cotton linen, fluffy towels, sumptuous robes and slippers, huge array of teas, coffees and tisanes plus extra treats in all rooms.
*    Luxurious toiletries, toothbrush and shaver sets in all rooms.
*    Free wifi throughout the house and garden.
*    Fabulous organic Full English breakfast for 3 room occupancy in the glittering dining room.
*    Check in between 4.00pm – 8.00pm and late check out on Wedding Day by midday.
BRONZE PACKAGE:  All of the above. £1500
SILVER PACKAGE:  As above plus additional 2 guests during the day i.e. hair and make up artists, complimentary tea/coffee during the day, complimentary bottle of fizz in Master Room 1, late check out on Wedding Day by 2pm. £1700
GOLD PACKAGE: As above plus additional 4 guests during the day i.e. hair and make up artists, 2 family members, complimentary tea/coffee during the day for all guests, complimentary bottle of fizz and flowers in Master Room 1, floral displays in dining room, hallways and landings, late check out on Wedding Day by 3pm. £2000
Champagne honeymoon night:
*    Master Room 1 @ £270 per night inclusive of luxury champagne breakfast.
*    Rooms 2 or 3 @ £200 per room per night inclusive of luxury champagne breakfast.
*    Late check out by midday.
Additional services available upon request:
*    Hair stylist and bridal make up for the bride and bride's party including trial at Number One.
*    Spa treatments available in the comfort of your room or Drawing Room.
*    Photographer to capture your wonderful day.
*    Fine dining lunches or dinners, champagne/canapé receptions for up to 25 people in our Drawing Room, up to 10 people in our Dining Room or, weather permitting, in the romantic courtyard garden.
*    Extra breakfasts available for guests @ £15 per head – maximum of 8 people total.
*    Our cocktail manager and sommelier can prepare and serve cocktails or our famous Gin Trolley in Drawing Room or courtyard garden.
*    Champagne, wines, beers, soft drinks available to purchase throughout your event.
PAYMENT & CANCELLATION POLICY:
We accept payment via BACS, debit card and most major credit cards. A 50% deposit pre payment is taken at the time of reservation with the balance to be paid no later than 3 months prior to the event. In the event of cancellation you will receive 75% of the pre-paid deposit provided we are notified not less than 3 months prior to the date of arrival. If the reservation is cancelled with less than 3 months notice then the full payment for the event will be kept. Public Holidays and Christmas periods are subject to our policies at the time of booking. These prices remain until end of 2022 and could be subject to review in 2023. E&OE.
My bridal team and I would like to say a very big thank you for your hospitality, attention to detail and energy. I am so glad that I made the decision to stay at One Port Hill the night before my wedding until the morning of the big day. It is so glamorous and extremely girlie which was perfect for all of us. Every bride-to-be should experience your wonderful home. Thank you again.
– Michelle Hollingsworth.
EXPLORE HERTFORD.
This historic market town dates back to before the year 911 and Hertford Castle was the chosen royal residence for many kings and queens residing in its walls for over 300 years. With the River Lea at the heart of the town's history, its rich heritage grows year on year and has continued to be a very special place to visit.
To find out more, please visit Discover Hertford Online – click here. www.hertford.net
Or the Go Hertford website – click here www.gohertford.co.uk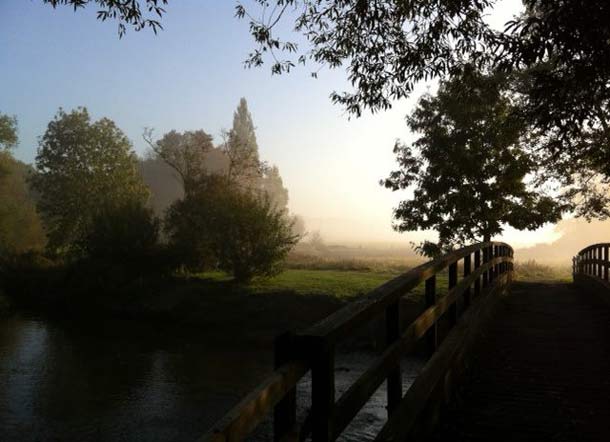 A little piece of Italy here in Hertford! Thanks for a lovely place to stay.
– Russ and Christine, the Cotswolds.
Gallery.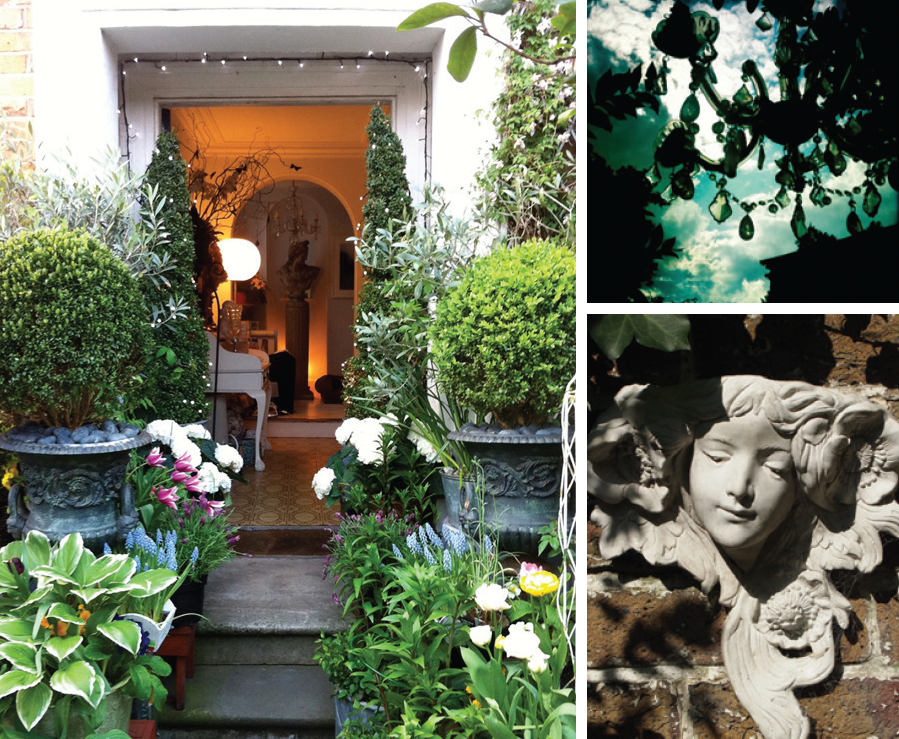 What a wonderful treasure trove – we have had such a lovely two nights here. Annie, you were born to make people welcome. We could go on forever about how welcome you made us feel. The food was perfection and your little oasis courtyard garden at the back was like stepping back in time. Thank you so much. We will return, hopefully soon.
– Chris and Norman, Falmouth.
CONTACT / BOOKINGS.
Number One Port Hill, Hertford, Hertfordshire SG14 1PJ
Tel: 01992 587 350 / 07770 914 070 | VIEW MAP